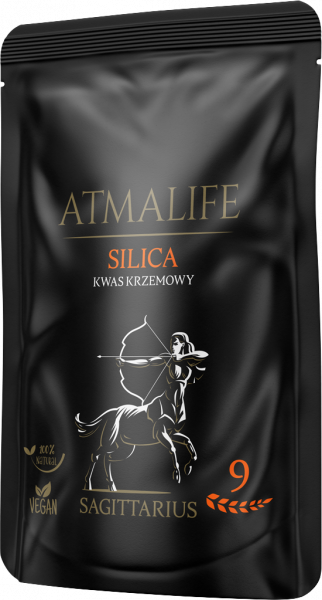 Minerals - Sigittarius
Silicic acid - sign 09
Made of 100% plant extracts. Silicic acid, 100g sachet - For Sagittarius.
Dietary supplement
Preparation and supplementation
Dissolve 1 scoop (5g) of powder in a glass of warm water. Use once daily, after meals. During supplementation, drink no less than 1 liter of water a day.

Best before:
24 months from the production date (the date and batch number are printed on the packaging).
Store at room temperature (15-25°C), in a dry, dark place, out of the reach of children.
Once this product is opened, it has a 6-month shelf life.

YOUR 3 minerals that are essential for the horoscope owner represent the period of missing months until the end of the year during which the mother was not pregnant.

INCI ingredients:
inulin (inulin), maltodextrin (maltodextrin), Silicum (Diatomite diatomaceous earth), natural raspberry aroma.
A mineral for Sagittarius
Silicic acid
Critical parts of the body that are exposed to ailments caused by a lack of silicon:
Liver, hips, thighs, sciatic nerve and autonomic nervous system, bones, teeth, eye lens.
Pelvic bones, pelvic girdle, sciatica, back pain, femur, right femoral artery - deep, left femoral artery - deep, right superficial femoral artery, left superficial femoral artery, right (right-sided) lymphatic vessels, left (left-sided) lymphatic vessels, adductor muscle, long saphenous vein, femoral skin vessels, right iliac vein, left iliac vein, sciatic nerve, right femur, left femur, right femoral head, left femoral head, right trochanter, left trochanter, popliteal fossa, right femoral condyle, left femoral condyle, gluteal muscle, right leg muscles, left leg muscles, pear-shaped muscle.
Silica
It is interesting and fascinating that the term "hip" comes from the Latin "hippo" which meant horse. This is worth noting in the context of the fact that the hips and thighs have been assigned to Sagittarius since ancient times. Dr. Carey assigned silica to Sagittarius.
Silica is quartz. Flint, which has been used since time immemorial to knit sparks to make fire, is one of the forms of quartz. Silica represents a considerable part of the Earth's shell.
It does not occur in free form in nature and must therefore be obtained using chemical processes. In its pure and crystallized form, it is rock crystal or quartz.
We learn from inorganic chemistry that silica stiffens the stalks of cereals and is also present in animal tissues.
Chemical functions of silica
Biochemists are delighted to share their knowledge about silica, placing it in the arsenal of remedies depending on the observed symptoms. Silica is a component of ordinary quartz, it is present in hair, nails, skin, periosteum, nerve sheaths; traces of it can also be found in bone tissue.
This salt is recommended for all purulent processes until the accumulation of organic substances to be removed from the body. Iron phosphate and potassium chloride should be administered in the first stage of any swelling, but if these salts fail to stop the process, then you should immediately reach for silica.
Due to their intelligent action based on the laws of nature, and with their sharp corners, silica particles have the ability to attract and accumulate unwanted substances, and also act as a lancet, creating a corridor in the skin and tissues through which non-functional organic matter can be removed from the body.
But for nature to do its job, it must be equipped with the relevant tools. When quartz is present in the body in the right amounts, processes of pus formation and removal are normal. In the case of a shortage, these operations are delayed; the greater the deficiency, the more painful the removal of pus from the body, or to be more precise - swelling and the area through whichnature will try to dispose of it in the body. Thus, the lack of this salt causes the formation of numerous boils.
Frequently asked questions
We offer two options for taking salt.
Every day mixing all the minerals - then there should be about 1.6 grams of each.
The second option is to take alternately at a dose of 5 grams for one salt each day.
It is important not to exceed the daily dose of 5 grams.
If you want to check what minerals you need, use the Calculator, which, based on the date of birth and the duration of pregnancy, will select the perfect set of supplements for you. Missing minerals calculator takes into account the offsets in the zodiac sign calculation of Vedic and Western Astrology.

Calculate missing minerals
Yes, it can be administered in the standard 5 gram dose.
Warnings
Dietary supplements are not a substitute for a varied diet and a healthy lifestyle.

The recommended daily dosage should not be exceeded.
Do not use if you are allergic to any of product compounds.
Do not use the drug during pregnancy and breast feeding.

The product contains mineral salts supporting the physiological processes in the body. They work at the cellular level and are a factor supporting the functioning of cells. These salts participate in metabolic processes and are involved in the absorption of substances contained in food consumed in the daily diet.